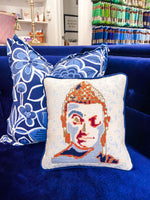 The moment has finally come....you have completed the final few stitches on your favorite project, stared at it in all of its finished glory, and now you are ready to drop your canvas (first born child?) off for finishing!  What did that sweet gal at TCS say? It takes HOW long? It costs WHAT?
Let's talk the logistics of finishing below!
We know, we know, finishing can be a trying experience filed with a lot of unknowns and unfortunately, that's the reality of most finishing across the needlepoint industry at the moment. We understand the frustration (ask anyone who has sat with us in an airport, patience is not our strong suit!) and want to provide some insider info about what is going on and how to best prepare to send your stitching off to be finished. 
Timing:
Yes, finishing can take a long time. And no, your LNS most likely will not have precise date on when exactly to expect your item back (though they will provide estimates). This is because the wonderful, professional needlepoint finishers have been overwhelmed by the wonderful surge of stitchers that the pandemic has brought. Needlepointing has exploded, and the finishing industry simply has not been able to keep up. Finishers are working on growing their teams, and investing in capital equipment, which will ultimately improve finishing turnarounds -  but this will take time. 
In the meantime, the best an LNS can do is give you a reasonable turnaround time estimate. Those estimates are based on quoted timelines from the finishers. There are (rare) situations that can occur when a finisher who runs a smaller operation isn't able to keep up with their quoted turnaround time for whatever reason (illness, family emergency, holidays). Those are unseen circumstances to everyone, and so when the finishing doesn't come back as quoted exactly your LNS appreciates your understanding and patience!
To prevent any needlepoint heartbreak, if you are stitching for a deadline, we encourage you to ask about current turnaround times when you purchase the project to ensure you have all the relevant information you need to get a project wrapped up. If you need a project turned around on a tight timeline, ask about self-finishing options (there is an increasing number of high-quality options available that your LNS can work with you on sourcing). We are always looking at methods to improve our finishing services, in speed, process, and otherwise!
Price:
Finishing can also range from affordable, to expensive based on the specifics of your project. This is because all needlepoint projects finishing by professional needlepoint designers are blocked and finished by hand which is a time and skill intensive process that takes years to hone. Communicating the details of what you are looking for can help your LNS give a much better price estimate. We have worked to pull together the below pricing estimate guide. This guide is subject to change based on inflation, or our finishers costs, but is meant to be a useful guide in letting you know what different finishing projects can cost. Keep in mind that when finishing an item at an LNS, finishing costs include mail fees to and from the professional finisher, cost of staff organization and administrative work of finishing (not a small task!), and the finishing expertise that a shop can provide.
That being said, we personally cannot afford to finish 50+ projects professionally a year (though we would love to). There are great ways to save on finishing costs - for example, we've offered keyfob & headband self-finishing classes, and are looking to add ornament finishing classes to our schedule for 2022.
Setting your project up for finishing success!
If you have been to our shop to drop off finishing, you know the routine. We review finishing options and take detailed notes on your finishing preferences. Being specific with us throughout this process is the best way to ensure your project comes back exactly as you had imagined. If you have a photo of your vision, please share it with us—that is gold for us to share with our finishers. We offer basic fabrics, and our finishers offer a wide range of options. If you know the fabric you want used, bring it in and we will include it with your canvas when we send to our finishers (message us if you have questions about the best types of fabric for finishing). The same can be said for charms, zippers and tassels!
If you are looking for finishing guidance, let us know. Among the staff at TCS we have finished hundreds of projects (maybe even thousands, but don't tell anyone!!) and we love to share our advice and thoughts! Advice and opinions are personal, though— our taste's may not match yours—so be sure to speak up about what colors your home is decorated with, what colors you hate, or if it is a gift what the lucky receiver's tastes are like. Also, stay tuned for another blog post on exciting finishing ideas & detailed finishing terms!
Until our next finishing post, know that the entire TCS team is working tirelessly to get your projects finished in the highest quality, timely, and affordable manner.
In stitches,
Kathryn & Mack