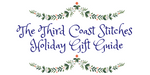 Our first Christmas at Third Coast Stitches! We are so excited to enjoy December in the city before rushing home to see our families on the East (Mack) and West (Kath) Coasts. Chicago at Christmas is wonderful, from Ice Skating at Millennium Park, Christmas Shopping on Michigan Ave, and countless cozy Christmas parties. Add in needlepoint and you have a winning Holiday combination.
With all the drama around international shipping delays and import shortages, we encourage you to keep your shopping local this year! Whether gifting a finished needlepoint project, or a kitted canvas, needlepoint gifts are so meaningful. To us the gift of needlepoint represents time. Time taken by someone to stitch a beautiful gift, or time given by gifting a new hobby- and a chance to slow down.
Below we have included our specially curated Holiday gift collection, as well as some non-TCS gifts that we have on our own lists. As always, let us know if you have any questions or would like to see a different canvas kitted as a gift!
For the Beginner:
The thought of giving the gift of needlepoint brings a tear to our eye! One of our fob kits is the sweetest gift for a needlepoint newbie. For your preppy beginner, the Gingham Fob is a classic, clean design. If they are more geometrically
inclined, the Greek Key Fob is a fabulous canvas for a beginner. A monogram is a wonderful add the the Greek Key Fob as well. The Chicago Key Fob is a great gift for the Chicago fan in your life. 
For the Beginner who wants some hands on help:
If they are a Chicago local think about adding on one of our January beginner classes! These classes are $65 and include a beginner-friendly canvas, fibers, needle, and instruction with stitcher and designer Clare Vickery of Oz Needle and Thread! The perfect gift for yourself or a friend who wants to learn a new skill - what better way to spend the chilly Chicago winters than stitching while cuddled up. 
For an ornament exchange:
What better way to shake up the timeless tradition of an ornament exchange than to include a needlepoint ornament kit! These kits are beautiful, and beginner friendly. Our Sleds have been hugely popular for their price point, small size, and fun fibers so this is sure to be a hot ticket item at your next exchange. Our Sled with Wreath is classic choice, but the Sled with Lights is so fun stitched with Krienik. 
 For the Dudes:
The @needlepoint_dudes are dying for some more
TCS gear
(haha). Put someof their tried-and-true favorites under the tree for your dude, dad, or brother. This comfortable long-sleeved tee, and stitched keyfob or flask are the perfect gift! Bonus points that the hand stitched items employee single mothers in Haiti - not only a cool gift, but also philanthropic!
For your friend who loves to travel:
This self finishing jewelry box and insert make a wonderful gift for your jet setting loved one ! You can stitch this yourself and gift the finisher jewlery box or even gift the canvas and box for your friend to stitch! We have some beautiful options, like the Camelia Insert, an Oyster, and a darling Bee. They all look sharp on a Planet Earth Self-Finishing box! 
For the gal who loves to stitch:
Want to win the best gift award? This Atlas Kit is the perfect pick. Our favorite finishes are a large box pillow in a matching velvet. A great gift for the stitcher who loves to hunker down in the winter and make progress on a stunning project. 
For the Chicagoan or Chicago fan:
Nothing is more Chi-CA-go than this delicious Chicago Hot Dog, paired with our Chicago flag needle minder. Did you know that a strict rule of Chicago Dogs is 'no ketuchup'? This is the perfect canvas to bring to a TCS Stitch Night and learn French Knots from us or a fellow stitcher. 
For your non-stitchers, we have some favorites that are on our Holiday Shopping Lists. Bonus points since all of these gifts are from local shops around the country! 
On Mack's List -
Noted Sea Salt Candle, Noted, Boston, MA 
Cowhide Clutch, The W&W Collection, Pittsburgh, PA ( I have had my eye on this one for a while. Hoping it is under the tree this year!)
 Gift Card, The Book Cellar, Chicago, IL
On Kath's List - 
Leather Mules, Lori's Shoes, Chicago, IL
Block Heel, Clorinda Antonori, Naples, FL (I already own these, but they are *incredibly* comfortable and stylish!)
Nantucket Basket, Nantucket Light Design, Falmouth, MA (Mackenzie has one so now I must have one too ;-))
On @NeedlepointDude's List -
The Incredible Non-Wrinkling Polo/Sweatshirt, Austin, TX (Bought this for one of the Dudes who is very lovable but doesn't own an iron. It ALWAYS looks pressed. We rest our case.)
The Splash Hoodie, Rhoback, Charlottesville, VA (Kendall & JB's go-to)
Whiskey Wedge, All She Wrote, Chicago, IL
Happy Holidays to our Third Coast Stitches community. Whatever you celebrate, with whomever you celebrate with, we hope this holiday season brings those you love closer to you. 
Cheers-
Kath & Mack