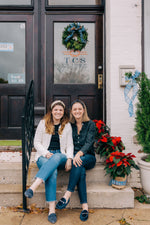 Christmas has been so pleasantly busy at TCS! We kicked off with an exciting Small Business Saturday, followed by a stitch night and two keyfob classes this week - no rest for the wicked, as they say! Clare (Oz Needle & Thread) taught both Keyfob classes this week - they were so popular that we have scheduled another in January, in addition to a beading class!. On Wednesday, we have our final stitch night of the year and our planning to cap it off with a drink at Marquee Lounge - come one, come all. 
In between all that, and a new job at Kraft Heinz, my roommate and I managed to squeeze in our annual Christmas party. Lindsay has been my roommate since college, and we have been hosting a Christmas party for years!
I'm not sure why but annual parties are some of my favorite...maybe because comparing each year to the last shows how far you have come? Our first Christmas party as roommates was basically a festive frat party (sorry, Mom), but over the years we have progressed. Each year holds a special memory, from the year I broke up with my boyfriend the night before the party (word to the wise - don't do that...you will have a lot of pictures with great outfits and puffy faces!) to the year my needlepoint dude had too much 'nog! Last year we kept up our tree up and celebrated in January after all our friends had seen their family members - safety first!
Each year we provide peppermint schnapps "on the house" ;-) and have friends bring their favorite cocktails to share! Mack- a gin girl through and through- brought pomegranate gimlets! The recipe from the icon herself, Ina Garten, is available here!
After our Chicago Christmas celebrations are over, Mack and I are headed to our respective coasts for two weeks with our families. Opening the store has been a wonderful exhausting experience so we are both looking forward to some rest, relaxation, and stitching. The shop will be closed from 12/20-1/4 so please plan to place any pressing orders before 12/18. Orders placed over the break will be fulfilled on 1/5. 
Merry Christmas,
Kathryn (and Mackenzie too)