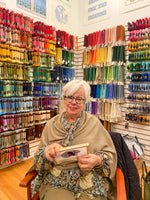 Tea with TCS: Catherine Shaffer
If you haven't had the pleasure of meeting Catherine Shaffer...you are missing out! Catherine was the first customer through our doors on opening day (she purchased the Chicago fob!). When Mack and I were looking to expand Team TCS, Catherine was a natural addition to the team. A master stitcher, Catherine stitched the keyfob up quickly and is now put to use to hold her TCS shop key! 
Catherine has been stitching for years, and has brought her stitching experience, needlepoint knowledge, and impeccable taste to TCS! Beginning in May, Catherine will launch a daytime stitch & chat series, and a needlepoint consultation service. The Stitch Sesh series will take place every other Thursday from 10:00 - Noon, cost $10, and come with 10% off TCS fibers and accessories. Catherine's 30 minute stitch consultations will offer thread & stitch input + inspiration, to help bring your next WIP to life! Consultations will occur every other Thursday from 11:00 - Noon and cost $15.
To celebrate the launch of Consults with Catherine & her Stitch & Chat we sat down with Catherine to learn more about her needlepoint experiences. 
When did you learn to needlepoint?
It seems to have just happened. My mother was not a stitcher or sewer; nor was anyone else around me. I did embroidery and cross stitch as a kid but I remember my first needlepoint project vividly. I purchased it in Guaruja, an island off the coast of the state of Sao Paulo. My sister had married and moved to Brazil, and on my first visit I needed a beach project. It is a series of roofs in a favela in Sao Paulo. I love it and it still has a prominent place on my needlepoint wall! It is simple continental...self taught...I recently had it remitted and framed at Framebridge, my go to for framing!


What has been your favorite finish?
So hard to pick one...I think it is my Christmas purse....I was living in Boston at the time and I needed a purse to attend the Christmas Pops at Symphony Hall. I found a coaster with my initial and my favorite plaid at Stitch Boutique where I worked at the time and when I stitched it and beaded the "C" I had it finished as a velvet crossbody with a frog closure! This shows you that only your imagination will limit you when it comes to finishing!!

What is your favorite stitch?
I am not so hung up on stitches as I am on fibers. A simple basketweave can be transformative when done with a velvet or a sparkly thread. There is always a place for basketweave. I also love seeing open canvas and I have done many backgrounds in a simple stripe; it is fast and makes an impact!

18M or 13M?
No preference; it is all about the design for me.

Stretcher Bars or In Hand?
No hesitation here....stretcher bars...I hate seeing those rumpled canvases pulled out of purses! (Note: this feels like a person attack on Mack but we'll allow it!)

Favorite project in your stash?
Several years ago I attended a stitch retreat at Stitch Boutique in Boston led by Carolyn Hedge Baird. I had purchased two Charley Harper canvases and I stitched one. Years later I have decided where these will go and I have the second one in my queue...they will be made into pillows for my guest room when I decide to redecorate!

Stitch in Season or for Finishing Deadlines?
I stitch for finishing deadlines!

Needlepoint for yourself or others?
I must confess I am very selfish when it comes to my needlepoint. Every year my two grandchildren receive an ornament. After that I generally stitch perhaps one item a year for a member of my family...trying to get to everyone! Then it is all mine!!

Silk & Ivory or Pepper Pot?

Love both depending on the size of the canvas. I try to only stitch in silks!
What are you most excited about at TCS right now?

Kath and Mack, I am in awe of what you are doing with TCS. You are creating a new model for needlepoint shops and are extending the brand in so many directions. I cannot wait to meet new stitchers at Thursday's Stitch Sesh!
How sweet is she! If you have any questions on Catherine's upcoming events at TCS please reach our to hello@thirdcoaststitches.com.