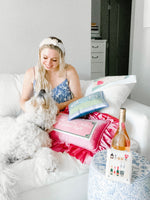 Tea with TCS: Morgan Julia Designs
To celebrate the launch of our mini collection and meet + greet with Morgan Julia Designs, we sat down with Morgan to talk through all things needlepoint! Morgan and her sister Brooklynn will be joining us at TCS on July 9th for a Meet & Greet to launch our two exclusive MJD x TCS designs. We will have rose, small bites, shopping, and simple canvas customization with Morgan from 12:00 - 4:00.  At the event, we will launch our Daybreak & Chicago Bar Cart canvases which are exclusively available through TCS. We can't wait to host Morgan and Brooklynn in the Windy City!
- - - - - - - - - - - - - - - - - - - - - -
When/why did you learn to needlepoint? What was your first Project?
I learned how to needlepoint back in Winter of 2018 as I was working on my Capstone for College Graduation/applying to jobs. I needed a creative outlet and saw that Mackenzie Horan, a blogger I followed, had picked it up and created a post about it. I had also read somewhere that it was supposed to be meditative and good for anxiety - something that I was really struggling with at the time. I picked up my first project, a collar for my Goldendoodle named Captain, and taught myself via YouTube! 
How did you transition from stitching to designing?
I started designing shortly after I started stitching. I had an art Instagram at the time where I would post things that I created throughout college. As I started really picking up stitching, I thought it would be fun to try to put some of my artwork onto canvas in Late Spring/Summer of 2019. I posted a few of my designs on my art Instagram for fun and used #needlepoint and they took off in the community. People were asking me where they could purchase the canvases. That weekend I put together a Shopify website and made my first sale of "Rosé Service" on May 26th, 2019. In Fall of 2019 I quit my job and was able to take MJD full time. The rest is history!
What is your favorite MJD design?
This is such a tough question to answer because I imagine it's like having to pick a favorite child lol! I would say it changes from time to time but here are my current top 3 favorites in no particular order:
Oysters on the Half Shell since it was one of my first really challenging, advanced designs to create and centered around something I love. 

The Pill series, specifically Chill Pill, since it allowed me to open up the conversation about mental health on social media.

Christmas Cookies because I was able to translate such a special tradition from my childhood into a canvas - and I love how adorable the tiny cookies are. 
What is your favorite drink to sip while you stitch?
If I'm going for wine, Whispering Angel Rosé.
If I'm going for liquor, Vodka Mint Lemonade with Tito's. 
If I'm going for non-alcoholic, Topo Chico. 
Have you ever been to Chicago, what are you excited to see while in the city?
I've never been to Chicago! So many of my friends in Florida have moved down from Chicago and speak so highly of it (other than the cold winters) so I'm just excited to explore the city. I've heard the city has amazing architecture so I'm looking forward to seeing that as well as try my first ever deep-dish pizza! 
What was the inspiration behind the Daybreak and your Bar Cart Series?
Daybreak Inspiration:
Daybreak was inspired by 2 major elements: Our 'Seafood Social' Canvas and my nostalgia for sleepaway summer camp on the lake. I love symmetry (probably why I love Wes Anderson so much) and wanted to create a design similar to Seafood Social but with a different theme centered around a lake vacation. Part of the reason I love Daybreak so much is because I feel like it 
cultivates this sense of growth that happens around a lake for many of us. In m case, I grew up going to sleepaway summer camp at Deep Creek Lake in Maryland and I view those times as formative years. Now, I love lake vacations because it gives me such a nostalgic feeling and it sort of serves as an 'adult' summer camp. I truly believe there's nothing better than a quiet morning in front of a body of water - where the title of this canvas came from. 
Bar Cart Series Inspiration:
I've always designed canvases around items that I've loved and that's how the OG Bar Cart came to be. I have a gold bar cart that I'm obsessed with and wanted to fill it with the standard products I thought every well-stocked bar should have. The Bar Cart Series really kicked off with my desire to decorate my 
bar cart for holidays - the only issue being I live in an apartment and don't have room for tons of holiday decor. Instead of decorating my actual bar cart, I found my creative fix from decorating needlepoint bar cart canvases instead since that doesn't require any extra storage. As I was adding holiday designs to the collection, I thought it would be so fun to expand it to locations as well by decorating the cart with memorabilia and items that were important to that location. Our Chicago Bar Cart was designed in collaboration with Mack and Kath's expertise (since I haven't been to Chicago). 
Have you had a favorite finish?
Yes! This is easier to pick than a favorite canvas but I'll share 2: One MJD and one non-MJD.
My favorite MJD finish has to be my Champagne Bucket canvas as an acrylic napkin holder. I prefer practical finishes that can be used year-long. The funny thing is that I hardly set napkins on it because I don't want to cover up the needlepoint, but I will store an occasional special cork on top of it.
My favorite non-MJD finish is my "Howdy" clutch. The canvas is by The Stitch on Instagram and I love that it's a nod to my Texas roots (I was born in Dallas). I had it finished as a clutch with cowhide and I love how it turned out. 
If you've been following MJD on Instagram for awhile, you may remember that I took the canvas on the boat one day to stitch it. It was a rather windy day and as we were getting off, the wind blew the canvas out of my bag and into the Chesapeake Bay. If you've been to the Bay, you may know that the water isn't very clean….thankfully my stepdad and Brooklynn jumped to the rescue and were able to fish it out. By some miracle, I was able to save the canvas with just some cold water and blocking. This canvas has had quite the glow-up and every time I look at it, I can't help but smile at that story. 
How do you and Brooklynn make your friendship & business partnership succeed? Most fun part about working with your sister?
This is something that I'm definitely very conscious of because we have a wonderful, strong sibling relationship and it's important to me that we never lose that. Working with family can be challenging, so we try to always have open and honest conversations and what is working/what isn't. I think the best way to balance it currently is having a working schedule vs play schedule. We try to do sibling things outside of work such as playing on the same ice hockey team, going to Rays/Lightning games, bars, boating, etc. so that we're still cultivating that sibling/friendship relationship. 
The best thing about working with Brooklynn is seeing her grow as a young adult. She joined the MJD team part-time during Covid when I needed a set of extra hands and it's been gratifying to see that she's wanted to stay on and join full-time. 
I think her strengths are my weaknesses so we make a great, powerful team. I'm more creative and free-thinking and she keeps me on schedule. 
- - - - - - - - - - - - - - - - - - - - - -
Rapid fire questions:
18M or 13M?
I am drawn towards 13 but love an 18 mesh ornament quick stitch between larger 13m projects. 
How many WIPs do you have?
Currently 5ish…but I have a dresser filled with over 50+ canvases to be stitched (crazy, I know!).
Stretcher Bars or In Hand?
In Hand: I've actually never used stretcher bars. 
Favorite project in your stash?
A large 12" version of my Oysters on the Half Shell Canvas that I want to stitch as a pillow.
Stitch in Season or for Finishing Deadlines?
In Season, I hardly ever make finishing deadlines! 
Needlepoint for yourself or others?
Is it bad if I say for myself lol?
Silk & Ivory or Pepper Pot?
Team Silk & Ivory.
Mack or Kath?
Mack but only because we share an East Coast Upbringing (but love that Kath is an Aries like me).
- - - - - - - - - - - - - - - - - - - - - -
We had so much fun designing these canvases with Morgan and hope you can join us at the meet and greet on July 9th from 12:00-4:00!
In stitches,
Mack & Kath