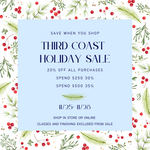 Third Coast Stitches Holiday Sale
Happy Holidays from Third Coast Stitches!
We're always celebrating the wonderful stitching community and those we love, but we're feeling particularly grateful this year. 
Our Holiday Sale is the perfect time to stock up on your holiday gifting, whether for yourself, the expert stitcher in your life, or a new stitcher. All of our canvases can be kitted by request, and we're also happy to put together custom packages for you!
Email us at hello@thirdcoaststitches.com for anything you might need - we'd love to hear from you!