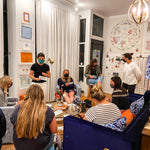 One of our favorite parts of owning a needlepoint shop in the city are the first-time needlepointers who shop by. Whether they are coming in after seeing us on the street (how could you not, with the colors of the thread walls jumping out at you through the windows?!), tagging along with a friend, or having been long-time almost stitchers, both Kathryn and I love explaining the needlepoint basics. 
We've been pleasantly surprised with how many people have come in asking for an introduction to needlepoint! And though we'd love to have the option to teach everyone anytime they come in, we decided hosting regular beginner's classes was going to be important to ensure that we could teach anyone who might be interested. We had our last beginner class last Thursday night with a sold out crowd! 
We find it's important to orient new stitchers around the craft before we dive in, so we reviewed why 18 mesh is called 18 mesh, different fibers, showed examples of stitched and finished products, and more. Then we got stitching!
We stitched these adorable Chicago rectangles that can be finished as a patch, ornament, or even framed. We got everyone started with continental stitch across the red border and then moved on to the blue lettering! Most of our stitchers finished part of the red and the lettering, with only the white portion left to take home. 
Our attendees had great questions and really got into the swing of stitching. We even had some stitchers buy some awesome, larger beginner projects on their way out: the Alice & Blue Knot, the Chicago Bean by Oz Needle and Thread, and the Holiday Bug by Eva Howard! We are so excited to continue supporting these stitchers through their learning. 
We've added another beginners class to our events section. We've sold out of both beginner stitch classes we've opened registration for thus far but our class next week on October 5th still has available seats, so sign up before it sells out again! Registration is available here with further details on price, time, etc..
If you have any questions, feel free to drop us a line at thirdcoaststitches@gmail.com - we're always happy to help. Looking forward to seeing our attendees back in the store shortly (perhaps for a Introduction to Needlepoint 201!) and welcoming all our other new stitchers. Check out the pictures below!
Stitching in progress!
Our beginner canvases!