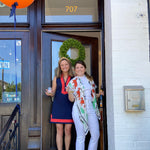 It is crazy that TCS has been open for just over three weeks now. Running the shop and our full time jobs has been as wonderful and exhausting as we planned! Mack is at the shop this weekend, so I finally took a few minutes to sit down and recap our Opening Day! 
At noon sharp on 8/14, we did a little ribbon cutting and popped a bottle of Veuve to toast to our new venture! I'd be lying if I didn't admit that I was a little nervous that there were only two people besides the needlepoint dudes and my little sister. But over the next few hours TCS was filled to the brim, with lifelong stitchers, new stitchers, and non stitchers who came out to support!
Mack and I are so grateful for all the love and support. We both remarked that we had never received so many beautiful flower arrangements and bottles of champagne (going to have to open a shop more often!). Kendall, Jack and my little sister helped us through a few POS jitters, and held things together on day one. We could not have done it without our family, friends and the lovely Lincoln Park community!
It's feels great to be up and running! We are already loving being Chicago's local needlepoint store!
xx,
Kath