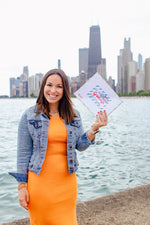 Chicago Summer Stitching!
With the Fourth of July behind us and summer officially in full swing, we've had some time to explore some of the best stitching spots around the city. From North Ave beach to Time Out Market in Fulton District there's no shortage of places to sit and pass time on a hot day while tackling your newest TCS project.
Where: North Ave Lakefront
What we're stitching: Chicago Bar Cart
This is the perfect spot to walk to if you live nearby in Lincoln Park or Gold Coast. Passing through the underground tunnels under Lakeshore Drive will allow you to arrive at one of the best views of our city. There is nothing better than sitting along the edge of the lake or finding a spot in the grass to relax and stitch on a nice day. Many people enjoy running, walking, biking, or rollerblading along this portion of the lakefront. Wanting to grab a bite to eat? Just down the path is Castaways, and to the south are plenty of snack options as well. The views are great, and being near the water is always an added mood booster!
Where: Oz Park
What we're stitching: Oh Deer! Clutch
With no shortage of people watching and activities that are constantly happening at Oz Park, it's the perfect place to lounge and feel like you're away from the heart of the city. Located in Lincoln Park, there is a playground for kids as well as the "Emerald Garden" which would be the perfect place to sit and make progress on your newest canvas. Named and themed after the movie "The Wizard of Oz", Oz Park is home to statues of the Tin Man, Scarecrow, Cowardly Lion, and Dorothy and Toto. After you've done your stitching for the day you could hit the tennis courts, basketball courts, or baseball fields!
Where: Time Out Market Rooftop
What we're stitching: Leopard Pocket Kit
With 18 restaurant vendors, three bars, and a rooftop, Time Out Market, located in Fulton Market District is the perfect place to meet up for your own sip and stitch! The first floor of Time Out Market is an upscale food court with multiple of the best food options that Chicago has to offer. Chicago is one of seven current locations. You can find other markets in cities such as Lisboa, Miami, Dubai, and Montreal. While the first floor is home to different vendors from top-notch restaurants around Chicago, the upstairs is lesser-known and is where the rooftop terrace is located with a great view of the city.
Where: Diversey Harbor
What we're stitching: Beach Day Round
There is no better place to feel like you're away from the 9 to 5 of the busy city than Diversey Harbor. With plenty of activities to enjoy nearby such as the Diversey Tennis courts and Driving Range, it's the perfect place to sit and relax while you get some stitching done and then hit the tennis courts or the driving range. There are plenty of activities and restaurants nearby as well as the Lincoln Park Zoo and Peggy Notebaert Nature Museum. If you're not a golf pro, they also have mini-golf as well as a bar and grill that is the perfect place to sip and stitch!