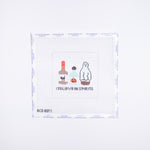 What Your Fall Canvas Says About You
I Believe in Spirits
You're probably upping your bar cart game. You enjoy spending your fall stitching while watching classic Halloween movies or getting in the spirit by decorating your home to be the spookiest on the block. Your go-to fall drink is champagne and apple cider and you are the bartender of your friend group.
Black and White Houndstooth Pumpkin
Your Halloween home décor is always top-notch and stays within a theme. That theme, specifically, being chic and tasteful. Fall is the season of all seasons in your opinion. Sayonara summer and hello to everything pumpkin. This canvas is great because it can stay out all fall long, which means more time for people to admire your hard work. 
Boo Boo Boo with Stitch Guide
You've been an avid stitcher for a while now and are excited to jump into this canvas and try out various new stitches. You're also probably mixing and matching different fibers. You love a pop of color and an eye-catching design. This is not the first of your Halloween needlepoint décor and it certainly won't be your last. 
Football Backgammon Board
You love fall for one reason and one reason only -- football. You're either sipping and stitching at the bar as you cheer on your team OR you are an avid football fan for the snacks and beer that go along with it. We would be the latter. Either way, this is the perfect project to keep you busy all football season long.