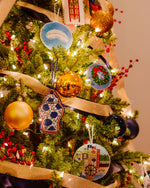 Christmas Finishing Deadlines
Christmas deadlines already?! For so many stitchers, the question is, "How?!"
As the needlepoint industry continues to grow, finishers are still in high demand. Best-in-class finishing comes with many difficulties, and we feel strongly that top-tier finishing that will last for generations is worth waiting for. With that being said, we are sharing our 2023 Christmas finishing deadlines:
Soft Goods
(Ornaments, Stand Ups, Stockings, Non-Leather Clutches) - July 1, 2023
Leather
(except bags) - October 1, 2023 
If you have any questions on a specific project not listed above, please email us at hello@thirdcoaststitches.com. We're stitching for these deadlines, too! Kathryn is stitching Seas & Greetings to be finished into a Christmas Card Box. Mackenzie is stitching this Merry pillow to add to her collection! Let the stitching rush begin. 
In stitches, 
Mack + Kath