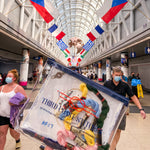 This weekend I'm leaving a very brave Mackenzie at the shop to hold down the fort while I fly to NYC to meet a very special new member of the Weir family! Needlepoint is the ideal way to pass the quick flight from Chicago to NYC so of course I brought a few projects along. I thought I would give you all a few tips I have learned while traveling with needlepoint:
Project bags are a life saver! If you're bringing different projects on your trip it can be nice to have a few project bags to keep your threads organized. I'm probably biased but I just love our TCS ones.
There are non-scissor type thread cutters you can buy but these scissors are TSA approved. These are also the perfect size for everyday use so they make for a practical buy.
If possible, sitting in left aisle seat if you're right handed gives you a little extra elbow room while stitching! ;-) 
One other thing I will add is that during the pandemic we all have been flying with masks, which makes it tricky if you lick your thread to thread your needle. I have found two solutions to this issue. One is to bring a water bottle to wet your finger (if you are clumsy like me this can be risky). The other option is to use a threader to help!
Alright--happy in flight stitching! Let me know if you have any flight related needlepoint questions below!
xx,
K