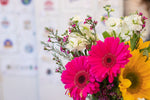 Spring Events & Pop-Ups at TCS
Bring on Spring! 
We have lots of fun coming to the shop in the next few weeks. We're saying goodbye to a dear friend as she moves away, welcoming a new designer to the shop, and broadening our class offerings! 
On Sunday, May 21st from 11am-2pm we will be hosting Clare from Oz Needle & Thread for a pop-up. Clare will be bringing her entire collection to
TCS for her final event in Chicago. Come by and cheers to Clare as she departs on a new adventure, browse her collection, and take 15% off your purchase of Oz Needle & Thread canvases 
On Wednesday, June 7th from 5pm-7pm we will be hosting Caroline of Atlantic Blue at TCS for a trunk show! We're thrilled to be bringing Atlantic Blue canvases into the shop - they're fun, cheeky, and right up our customers' alley. We think you'll love them! Stop by to browse the Atlantic & Blue trunk show, meet Caroline and maybe have her do a little customization of one of her canvases, and take 15% off any Atlantic Blue purchase! 
On Friday, June 8th we'll be hosting the first of our two Stitch Style classes! Friday will be the adorable Hydrangea Mailbox Class from 5:30pm-7:30pm - customize your mailbox with a last name or a zip code to make a darling personalized canvas for you or a very lucky recipient! 
On Saturday, June 9th, Jinny of Stitch Style will be teaching her second class of the weekend on her Volkswagen Buggy canvas. The perfect Spring/Summer stitch (and we've found it makes the CUTEST wedding gift!), join Jinny and TCS for a class ahead of her all-day pop-up at the shop! 
In the afternoon of the 9th, Jinny will be hosting a trunk show at the shop with her collection. Take 15% off, chat all things decorative stitches and needlepoint with Jinny! 
It's a busy Spring and beginning of Summer at Third Coast, and as always, it'll be lots of fun. If you can't join us in person, we do hope you follow along online and shop with us on the site! 
Interested in ordering something from a pop-up we're hosting? Email us at hello@thirdcoaststitches.com with what you're looking to order and we will honor the discount as long as we receive the email the day(s) the pop-up is running!