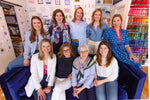 This month marks two years since Third Coast opened our doors! Serving the Chicago needlepoint community (and beyond) has brought so much joy to our lives, and introduced us to so many wonderful people. We wanted to take a few moments to acknowledge our loyal customers and talented employees…we would not be here without all of you. 
In the ever-expanding needlepoint industry, we are grateful that you chose to shop with us. We firmly believe in the value of a Local Needlepoint Store and strive to provide an excellent experience for experienced stitches and beginners alike.
While operating Third Coast isn't without its challenges (hello new AC unit last week!), the buzz of the shop on busy Saturdays, or reactions to revealing a finished project at stitch night truly reinforce the joy of being Chicago's LNS! Your business means so much to us, truly every canvas purchase, kitting extravaganza or finishing project are meaningful. 
Thank you for supporting us, and bringing life into our shop! To celebrate we will be running a 20% off sale this weekend*. For a few of our favorites– check out this Monkey Brick (Mack's favorite stitch from the last year), Bees Knees Coasters (Kath's current favorite),and Santa's Sled Stocking (Jen's current favorite). 
A special thank you also to our manager Jen, and wonder shop gals. Your passion for TCS, needlepoint knowledge, and sense of community are unmatched!
In stitches, 
Mack & Kath
*finishing, classes, Kirk & Bradley trunk show excluded